Buying good fixtures usually represents a significant investment: they should be choosen according to durability and quality criterias, in order to raise the overall value of a property, being this newly-built or in need for renovation.
Choosing our fixtures ensures highest efficency levels, they contribute in reducing considerably the energy used for heating, cooling and lighiting any enviroment. Indoor comfort given by our fixtures goes beyond the sole thermal insulation, in fact they provide an excellent sound insulation level too.
Definitions
Usually, the expression "wood-aluminum", indicates an aluminum-coated wooden door or window. Instead, the caption "aluminum-wood", means that aluminum is the main material which make up any frame or shutter.
Aluminum benefits
Aluminum's best qualities are durability and weather resistance. It requires nearly no maintenance and can be painted in a large color selection, thus to follow painting guidelines of any building or property renovation while keeping a wooden inner window built to suit your tastes .
Aluminum can be tint to match the exact hue of shutters and insect screens, it allows to fill the spaces between the elements of the window with matching intradoses.
Wood benefits
Wood has natural insulating properties: it prevents overheating during summer and protects from cold during winter. Wood has no hollow parts, giving it good soundproofing features.
As a fine, versatile material, wood has an alluring warm finish . Its distinctive elegance can easily fit any interior design project.
We offer multiple finishing touches, thus you'll always find the perfect solution to blend with furnishing. Our wood types all come from certified, responsibly managed forests.
Our windows specifications
Thermal transmittance coefficient (Uw) indicates how much energy (in heating or cooling) is lost by the fixture's surface.
Acoustic insulation is the ability to reduce external noise diffusion inside a flat. Acoustic insulation index is expressed in decibels – dB.
This index it's useful to detect any air infiltration due to a pressure difference between the innner and outer surface of the fixture. Air tightness index consists of 4 levels, from 1 to 4, where 4 is the highest.
This index shows the ability of a fixture to block any water infiltration due to a pressure difference between the innner and outer surface of the fixture. It consists of 9 levels, from 1 to 9A, where 9A is the highest.
Any performaces over 9A value are indicated with an E letter, which is linked to the applied pressure value.
This index shows the ability of a fixture to mantain an acceptable level of strain and to retain all its original properties when subject to wind's strong pressure/vacuum levels.
The fixture is classified in 5 wind pressure calsses (from 1 to 5) and 3 relative front arrow classes (A, B, C). The
Materials
Our wooden profile, consist  in a three layer laminated timber with opposed fiber structure.
It can be made out of many wood types like okoumé, mahogany, oak, ash etc.
Our composite profile, which is composed of glued slats, features an high mechanical strength-dead weight ratio, has good fireproof qualities, it is smooth and knotless.
Varnishing can enhance the appearance of wood, increasing its weather and chemical resistance.
Aluminum can have a plain or goffred surface which can be painted in many shades: shiny, satin, metallic, pearly finished paints from RAL color chart and wood stains with fake veining effect.
Designe Choices
Designing a wood/aluminum window leads to the construction of an energy-saving, thermal brake fixture equipped with low E glazing in which the best technological solutions live together with strength, durability and quality materials. We therefore think that the design choices of an external fixture should involve:
Materials  – The wood types we use must come from certified, ecologically managed forests and contain an internal 12% moisture level. Some of these timbers require a lamellar layered composition.
Painting – Each window must be prepared and primed correctly to obtain the best painting result. Method of application and thickness of the resin layer need to be carefully calculated.
Opening types – The number of doors must be chosen according to opening type and fastening measurements . However, due to the heavy weight of high-performance glazing, we recommend you to decide by following manufacturer's advice. For example, in tilt&turn opening, it is better to reach a maximum door widht of 60 cm.
Glass surfaces – Glazed parts must ensure best living comfort performances and energy-saving solutions.
Architectural project – There are many types of windows (complanar sliding, tilt&turn) which can be combined in multiple solutions to satisfy both technical and aesthetic needs of the designer.
Thermal performances – In relation to indoor-outdoor heat transmission, the value used is thermal Transmittance, expressed in U [W/m² K].
Acoustic performances – The acoustic coefficient of a window indicates its soundproofing value, which is given in decibels (dB).
Glazing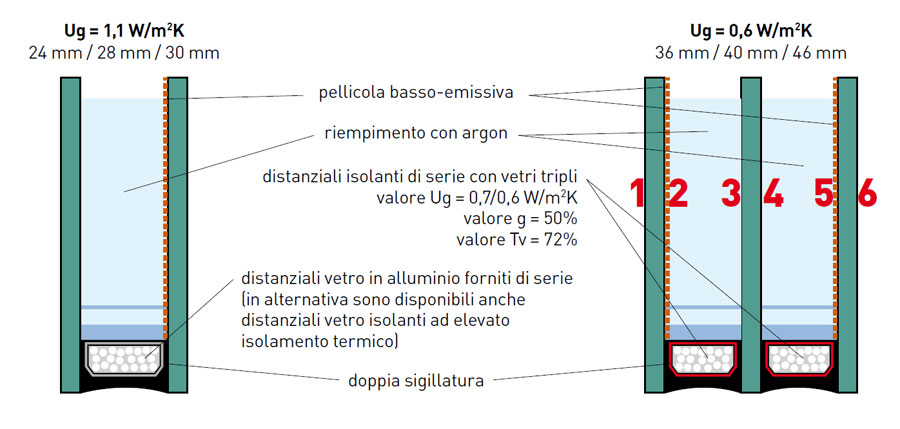 The use of thin, single glazing is, as well as being unadvisable, almost out of fixture's production and replaced by double glazing.
Double glazing consists of two or three layers of glass separated by appropriate argon gas filled gaps. Plates can be made from monolithic or laminated glass, which is in its turn composed by two sheets glued with a special film, called PVB, capable to increase its resistance. The presence of a hollow space it's an essential factor to improve thermal flow between indooors and outdoors: in fact, it stops heat from getting out during winter and, viceversa, to break in during summer.
Using "Low Emissivity" glass allows to reflect towards the indoors part of heat delivered as thermal radiation prodced by bodies contained in the rooms, significantly reducing heat loss. Heat is reflected by the plates, which are treated like a mirror reflecting pure light radiation.
An insulating glass differs from a simple one, it features a peculiar treatment by which heat dissipation gets limited. This special treatment does not interfere in any way with light radiation's inlet; is therefore possibile to ease important external energy contributions during wintertime.